WBS in Frankfurt am Main
This is how it works with a cheap WBS apartment in the banking city of Frankfurt. Everything you need to know about the Wohnberechtigungsschein in Frankfurt am Main. Clearly arranged and at a glance.
Application form, contact details and WBS apartments.
Here you can sign up for a cheap flat in Frankfurt, Germany.
Wohnberechtigungsschein in Frankfurt/Main

General information
A Wohnberechtigungsschein entitles you and your household members to move into a reasonably priced rented flat with WBS obligation. You can always apply for a WBS certificate if your income is not sufficient to rent a suitable apartment. In Frankfurt am Main, the examination of WBS applications is carried out by the Office of Housing.
The best way to reach the Housing Office is by public transport. Take the subway in the direction of Miquel-/Adickesallee. You can take the U1, U3, U8 or U2.
A journey by car is also possible. But due to the limited parking possibilities not recommended. Also you have to expect a high volume of traffic during the opening hours of the housing office.
Once you have arrived at the authorities, you will go through the means test or the eligibility test. During this examination, your entitlement to a WBS will be checked on the basis of the income limits applicable in Frankfurt am Main. The following applies: A WBS certificate (Paragraph 5 certificate) should always be issued to you if your disposable household income does not allow you to pay an adequate rent. In order to determine whether you are entitled to a subsidised flat with WBS obligation, the Aachen Citizens' Office checks whether your net household income is below the WBS income limit.
With the receipt of a residence entitlement certificate you are entitled to a publicly subsidised social housing. As a rule, the rents for these housing offers are significantly lower than those usually paid in Frankfurt am Main. Unfortunately, the supply of subsidised housing is limited and not every applicant is issued the coveted WBS certificate.
If you are not yet living in Frankfurt am Main when you apply for a Wohnberechtigungsschein, you will usually have to state your reasons for moving. Conversely, a WBS issued in Frankfurt is valid for the entire state of Hesse with a maximum validity of one year.
Decisive for the award of a residence entitlement certificate is the size of the household, the size of the apartment, the federal state and the net household income.
Income limits
In order to receive a residence entitlement certificate, your net household income must be below the WBS income limits. In Frankfurt am Main higher income limits apply than the national average. For the calculation the net income of all persons in the household are added together.
In the banking city of Frankfurt, 1-person single households are allowed to earn up to 15,572 euros after tax (net) per year. This corresponds to a monthly net salary of just under 1,300 euros. If you earn less than 1,300 euros per month, you are entitled to a WBS certificate.
If you have to make alimony payments, these payments reduce your net disposable income. We recommend that you arrange an informative conversation with the city of Frankfurt when making maintenance payments.
A two-person household may earn up to 23,626 euros net per year. It is irrelevant for the calculation of the Frankfurt income limits whether you are married or not. It is also irrelevant for the WBS test if only one household member has a regular income. It is only important that you do not exceed the WBS income limits in total.
If you are a single parent with a child in Frankfurt, the amount you are allowed to earn to obtain a residence entitlement certificate is increased by an additional allowance of 650 euros. In this case, you are allowed to earn up to 24,276 Euros net per year. In the concrete calculation example this means for you: You get a WBS if you earn less than 2,000 euros net. If you receive alimony payments for your child, these are not counted as income. The alimony payments are regarded as a contribution to the costs of raising the children.
| Household | 1 Person | 2 Personen | each additional Person | every additional child |
| --- | --- | --- | --- | --- |
| Bund | 12.000 | 18.000 | 4.100 | 500 |
| Frankfurt am Main | 15.572 | 23.626 | 5.370 | 650 |
Application form
You must also submit the following documents:
Declaration of income
Certificate of income (completed and signed by the employer
Registration certificate from the registration office (copy)
Identification document (copy)
If applicable to you:
Partnership declaration
Declaration on joint custody
Birth certificate of your children (copy)
Marriage certificate (copy)
Severely disabled person's pass (copy)
All of the above-mentioned documents can be sent by post to the relevant housing office. However, you can also make an appointment on site and get advice on filling in the documents. Contact the Residence Office in Frankfurt am Main.
Social housing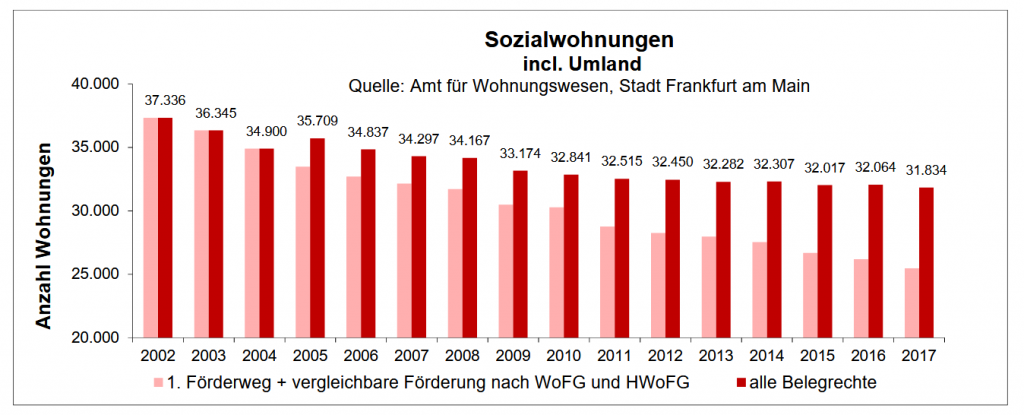 The number of social housing units to be allocated has declined noticeably in Frankfurt am Main in recent years. The most frequent reason for this is the ongoing expiry of the occupancy commitment.
The best chances for social housing in Frankfurt am Main are in the urban areas of Goldstein-West, Heddernheim-West, Zeilsheim-Nord or in the Praunheim housing estate. Eligible persons in the inner-city area have rather little chance of obtaining a publicly subsidised WBS flat. Most social housing is awarded by the ABG Frankfurt Holding on behalf of the City of Frankfurt.
The ABG Frankfurt Holding is the social conscience of the City of Frankfurt. The City of Frankfurt is the majority shareholder of the ABG housing company and has the self-acclaimed goal of creating affordable housing in Frankfurt. One of these new building projects is taking place on the former freight station "Schwedler-Carré II". There, 81 new apartments are to be built by 2021. Just under 47 apartments will be awarded to holders of a residential entitlement certificate. With a rental price of 5.50 to 6.50 euros per square metre, these rental apartments are significantly below the comparative rent in Frankfurt.
Here you will find further information and current apartments with a residence entitlement certificate in Hessen.
Contact the Housing Office
Amt für Wohnungswesen in Frankfurt am Main
Raum 64.3
Adickesallee 67-69
60322 Frankfurt am Main
Telephone information
Telefon 069 / 212-30560
Telephone consultation hours of the service centre
Mo und Mi 13.00 – 15.00 Uhr
Di 8.00 – 12.00 Uhr and 13.00 – 15.00 Uhr
Do and Fr 8.00 – 12.00 Uhr
Further information on the Wohnberechtigungsschein can be found on the homepage of the City of Frankfurt am Main.
WBS apartments in Frankfurt am Main
Flats in Germany. Get your apartment and get in contact with landlords now for free.
More flats in Frankfurt, Germany
Popular residential areas in Frankfurt am Main:
Nordend
Bornheim
Westend
Altstadt / Innenstadt
Bockenheim
Unser Versprechen: Wir arbeiten im ausschließlichen Interesse des Verbrauchers - also von dir! Doch unsere aufwendige redaktionelle Arbeit, die Bereitstellung unserer Website und die ständige Prüfung der Inhalte verursachen Kosten. Um diese zu decken, benötigt auch wir Einnahmen. Wir stellen dir alle Inhalte kostenfrei zur Verfügung! Es gibt keine versteckten Kosten, Download-Gebühren oder Wucher-Angebote. Deswegen haben wir uns für einen anderen Weg entschieden. Wir finanzieren uns über sogenannte Partner-Links zu unseren geprüften Partnern.
Wenn du unserer Empfehlung folgst, dann bekommen wir eine kleine Vergütung über den Partner-Link. Um dies für dich immer transparent und nachvollziehbar zu halten, haben wir jeden Link, an dem wir Geld verdienen mit einem Stern (*) gekennzeichnet.

Wir danken für dein Vertrauen.