WBS in Berlin
This is how it works with a cheap WBS apartment in the capital of Germany, Berlin. Everything you need to know about the Wohnberechtigungsschein in Berlin. Clearly arranged and at a glance. Get your cheap flat with support of the Germany Government!
Application form, contact details and WBS apartments.
Here you can sign up for a cheap flat in Berlin, Germany.
Wohnberechtigungsschein in Berlin

General information
A residence entitlement certificate entitles you and your household members to a reasonably priced rental apartment in Berlin. Rented flats with WBS obligation are subsidised by the city with public funds and are therefore significantly cheaper than other flats in Berlin. The WBS application forms will be checked by the authorities in Berlin and within 2 to 4 weeks processing time a decision will be made whether you are entitled to a cheap apartment for you and your relatives.
In Berlin, most social housing is issued with a "normal WBS" or general residence entitlement certificate. This WBS certificate is issued according to §9 paragraph 2 of the Housing Promotion Act. In order to be entitled to this certificate, you may no longer earn the current WBS income limits in Berlin. The city of Berlin stipulates that you may not exceed the income limits by more than 40% (WBS 40+). In Berlin this means for a single person household 16.800 € net per year. For a small part of the social housing you are allowed to exceed the income limits by 80% (WBS 80+). Further information on the WBS income limits in Berlin can be found below in this article.
You can submit your application for a residence entitlement certificate in Berlin to the Citizens' Office in your district office. You can find a list and contact details of all district offices in Berlin. Click here.
Upon arrival at the Bürgeramt you will pass the means test or the eligibility test. During this examination, your entitlement to a WBS will be checked on the basis of the income limits applicable in Berlin. The following applies: A WBS certificate (Paragraph 5 certificate) should always be issued if your disposable household income is not sufficient to pay for an adequate rental apartment. In order to determine whether you are entitled to a subsidised flat with WBS obligation, the Berlin Citizens' Office will check whether your net household income is below the WBS income limit.
If you are below the income limits and receive a WBS certificate, this official proof (also called a B certificate) is valid for one year. From this time on you have one year to find a suitable WBS rental apartment (apartment with WBS obligation). Unfortunately, there is no legal entitlement to a subsidized rental apartment simply by receiving a Wohnberechtigungsschein. You should also not rely solely on the authorities when looking for a flat, as the city of Berlin only places citizens in absolutely exceptional cases. Therefore, you should apply for WBS apartments in Berlin and the surrounding area on your own as soon as possible. It is best to apply directly to landlords for an apartment.
Due to the tense housing market situation in Aachen, it is important that you make as good an impression as possible on your future landlord. We recommend that you take a completed tenant self-disclosure form with you when viewing the apartment. Then it might work out with one of the sought-after new flats with WBS-obligation. You can collect further plus points if you can prove that you have paid your rent reliably. Because that creates trust with new landlords. You can have your current landlord fill out the rental payment confirmation.
If you are not yet living in Berlin when you apply for a Wohnberechtigungsschein, but intend to do so, you often have to give a reason for your wish to move. The other way round: A Wohnberechtigungsschein issued in Berlin entitles you to move into a subsidised social rental flat in the whole of area of the city.
Decisive for the award of a residence entitlement certificate is the size of the household, the size of the apartment, the federal state and the net household income.
Income limits
In order to receive a Wohnberechtigungsschein, your net household income must be below the WBS income limits applicable in Berlin. In Berlin, higher income limits apply than the national average. In Berlin, 3 types of Wohnberechtigungsschein are issued: WBS 40+, WBS 60+ and WBS 80+. The per
A WBS 40+ is the so-called Allgemeine Wohnberechtigungsschein and is valid for all WBS apartments in Berlin. In order to receive a WBS 40+, you are allowed to exceed the WBS income limits set by the German government up to a maximum of 40%. You can find the exact income limits for a WBS 40+ in the WBS income table for Berlin below.
If you exceed the nationwide WBS income limits by 40% but not more than 60%, then you can hope for a WBS 60+. With the WBS 60+ you can apply for newly built apartments with WBS compulsory in Berlin. This regulation affects approximately 2,000 social housing units in the capital.
If the WBS 40+ and 60+ do not apply to you, then you can hope for a new apartment especially for owners of a WBS 80+. The capital Berlin has planned its own subsidised apartments for this purpose.
This regulation should enable more people to move into publicly subsidised social housing in Berlin. For the basic calculation whether you are entitled to a residence entitlement certificate in Berlin, all net income of the last 12 months from all household members are added together. If your income is below the WBS income limits, you should be issued a WBS certificate. Other important allowances will be deducted if you can prove that you have a severe disability in the household. From a degree of care of 50% on, a tax-free amount of 2.100 Euro will be charged. If you have a disability with home care of 80% or more, 4,100 Euros are already due. Young married couples also benefit from the calculation for a WBS. Married couples under the age of 40, who have not yet been married for 5 full years, may include an additional allowance of 4,000 euros. A tax-free amount increases the maximum permissible WBS income limits accordingly.
In Berlin, 1-person single households are allowed to earn up to 16,800 euros after tax (net) per year for a WBS 40+ or general residential entitlement certificate. This corresponds to a monthly net salary of more than 1,400 euros. If you earn less than 1,400 Euros per month, you are entitled to a WBS certificate.
Our tip:
If you exceed the income limit slightly, you should check whether one of the applicable allowances is applicable to you. Tax-free allowances are granted for example for maintenance obligations, advertising costs for employees or if a disability is proven. With these allowances, you may still be able to get a coveted WBS 40+.
Single pensioners or senior citizens over the age of 65 will always receive a residence entitlement certificate and a corresponding WBS apartment in Berlin if at least a 3-room apartment is given for it. This is to enable more living space for young families. In return, senior citizens in Berlin have the opportunity to obtain a guaranteed low-priced WBS apartment. A win-win situation for all involved.
A two-person household may even earn up to 25,200 euros net per year. It is irrelevant for the calculation of the income limits whether the persons are married or not. It is also irrelevant if only one member of the household has a regular income. A special feature for young married couples. Young married couples have an additional allowance of 4,000 euros and are therefore allowed to earn up to 29,200 euros.
If you are a single parent with a child, the amount you are allowed to earn will increase by an additional child allowance, which will raise your WBS income limit by another 700 Euros to 25,900 Euros. In the concrete calculation example this means for you You get a WBS if you earn less than 2.000 Euro net per month. Maintenance payments you receive for your child are not counted as income. This is because the maintenance payments are regarded as contributions to the costs of raising the children.
| Household: | 1 person | 2 person | every added person | for every kid |
| --- | --- | --- | --- | --- |
| Germany | 12.000 | 18.000 | 4.100 | 500 |
| Berlin | | | | |
| WBS 40+ | 16.800 | 25.200 | 5.740 | 700 |
| WBS 60+ | 19.200 | 28.800 | 6.560 | 800 |
| WBS 80+ | 21.600 | 32.400 | 7.380 | 900 |
The city of Berlin offers its own WBS calculator on its homepage. With it you can already calculate your claim without obligation.
Application form
You must also submit the following documents:
Declaration of income
Certificate of income (completed and signed by the employer
Registration certificate from the registration office (copy)
Identification document (copy)
If applicable to you:
Partnership declaration
Declaration on joint custody
Birth certificate of your children (copy)
Marriage certificate (copy)
Severely disabled person's pass (copy)
You can fill in all the above documents and send them to the authorities. Alternatively, you can make an appointment on site and get advice on how to complete the documents. The city of Berlin offers free consultation hours during opening hours. Contact the housing office in Berlin.
Social housing development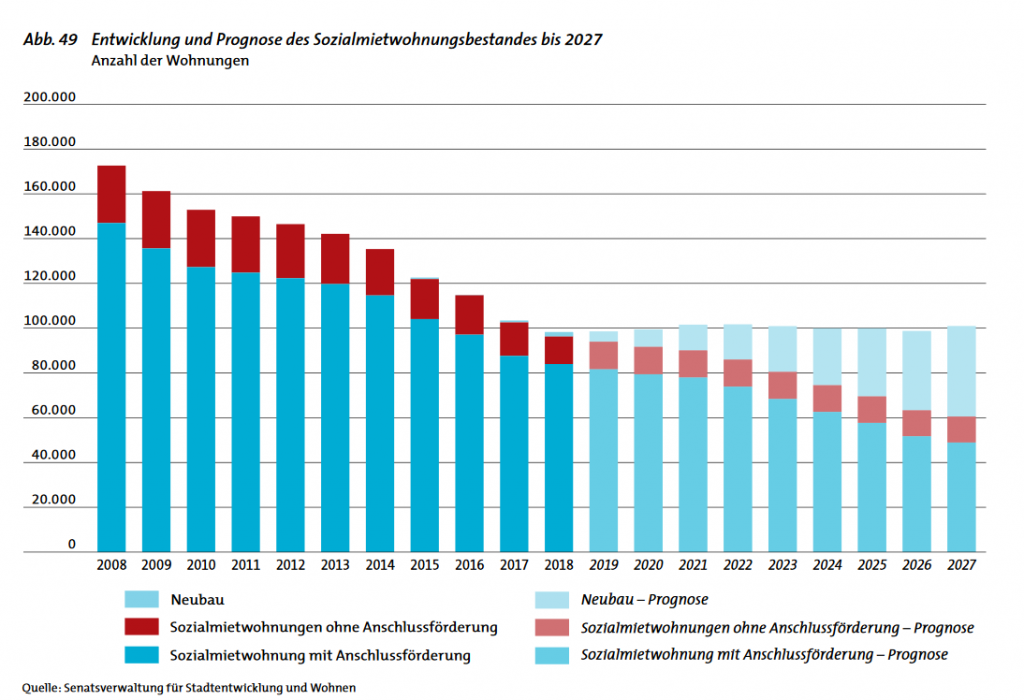 The stock of publicly subsidized rental apartments with WBS obligation has shrunk significantly in Berlin in recent years. There are almost 100,000 subsidised WBS apartments in Berlin. The declared goal of the state government is to maintain this stock at least until 2027. For this reason, the city government has set up a fund so that by 2027 about 40,000 new social housing units will be built. These social housing units can be occupied with a WBS40+, WBS60+ or WBS80+ in Berlin. This government measure is intended to replace the expiring flats with occupancy commitment. This is the only way to ensure that sufficient affordable housing will continue to be available in Berlin for holders of a residence entitlement certificate.
The largest landlords of a publicly subsidized apartment are degewo, GESOBAU and HOWOGE.
You can find a list of many new building projects in Berlin here. As a shining example of social housing construction, plans are currently underway on Bahrfeldstraße in Friedrichshain-Kreuzberg. More than 60 new housing units are to be built there and almost half of them are to be made available to owners with a residence entitlement certificate. The main aim of this construction is to achieve a healthy mix within the income groups. This is the only way to maintain the charm of Berlin as a major city.
Our tip: If you would like to be positively remembered by your potential landlord, we recommend that you bring a completed tenant information form with you when you visit the property. You can also collect additional plus points with a complete proof of your paid rent payments. The dear landlord.
Here you can find further information and current cheap apartments with a residence permit in Berlin.
Contact the Citizens' Office
Bezirksamt Charlottenburg – Wilmersdorf
Bezirksamt Friedrichshain – Kreuzberg
Bezirksamt Lichtenberg
Bezirksamt Marzahn – Hellersdorf
Bezirksamt Mitte
Bezirksamt Neukölln
Bezirksamt Pankow
Bezirksamt Reinickendorf
Bezirksamt Spandau
Bezirksamt Steglitz-Zehlendorf
Bezirksamt Tempelhof-Schöneberg
Bezirksamt Treptow-Köpenick
You may find more information regarding the Wohnberechtigungsschein and how to get an apartment on the official website of the city of Berlin.
Apartment offers in Berlin
Flats in Germany. Get your apartment and get in contact with landlords now for free.
Pankow
Neukölln
Berlin-Mitte
Spandau
Marzahn
Kreuzberg
Lichtenberg
Unser Versprechen: Wir arbeiten im ausschließlichen Interesse des Verbrauchers - also von dir! Doch unsere aufwendige redaktionelle Arbeit, die Bereitstellung unserer Website und die ständige Prüfung der Inhalte verursachen Kosten. Um diese zu decken, benötigt auch wir Einnahmen. Wir stellen dir alle Inhalte kostenfrei zur Verfügung! Es gibt keine versteckten Kosten, Download-Gebühren oder Wucher-Angebote. Deswegen haben wir uns für einen anderen Weg entschieden. Wir finanzieren uns über sogenannte Partner-Links zu unseren geprüften Partnern.
Wenn du unserer Empfehlung folgst, dann bekommen wir eine kleine Vergütung über den Partner-Link. Um dies für dich immer transparent und nachvollziehbar zu halten, haben wir jeden Link, an dem wir Geld verdienen mit einem Stern (*) gekennzeichnet.

Wir danken für dein Vertrauen.